Deltran Battery Tender Plus
Deltran Battery Tender Plus systems are designed to fully charge a battery and maintain it at proper storage voltage without the damaging effects caused by trickle chargers, 12v, 1.25a.
Features include:
* Quick-connect harness for hard-to-reach areas
* Temperature compensated to ensure optimum voltage according to ambient temperature
* Automatic switching from full charge to floating mode
* Reverse polarity protection
* Complete 3-step charging program (Bulk Charge, Absorption Mode, Float Mode)
* 10-year warranty
MSD 8.5mm Super Conductor plug wire set, Ford 5.0/5.8L #31329 (red)
MSD 8.5mm Super Conductor spark plug wire sets feature a special helically wound core that has just 40-50 ohms of resistance per foot—but with an RFI suppression equal to a 1,500 ohm wire. In fact, each foot of finished wire includes 40 ft. of tightly wound copper for superior conductivity. This winding procedure, combined with a ferro-magnetic impregnated center core, produces an extremely effective Electro Magnetic Interference "choke." This choke, or suppression capability, keeps the EMI inside the wire where it cannot interfere with other electronics on your vehicle. A tough, 8.5mm synthetic/silicone jacket over an extra-heavy glass braid and dielectric insulator keeps the current guided to the plugs. Underneath the high-temperature boots, dual crimp stainless steel terminals feature snap-locks to ensure a secure fit. Each set comes with clip-on cylinder markers for easy identification.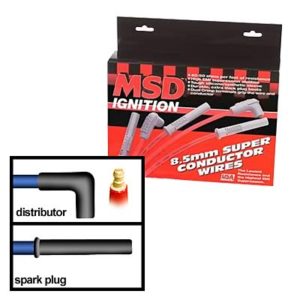 Only $96.40